A little less than a year ago, I did a crazy thing. I bought a ticket to go to FinCon19 without any idea if I could or would attend. You see, I had just recently started interacting with the personal finance community on twitter and FinCon18 was going down and seemed amazing. I watched on the sidelines, exchanging thoughts with Angela from Tread Lightly Retire Early, who is one of the most welcoming people in the community.
One particular post that convinced me to buy a ticket, was Chief Mom Officer's Wheels Up! Musings on FinCon, Impostor Syndrome, and Introversion. I read it over and over and then, I decided to ignore my thoughts telling me that my tiny blog with about 15 posts made me unworthy of calling myself a blogger let alone attending this amazing conference, and bought a ticket. Let me tell you that it was pretty awesome to meet Liz from Chief Mom Officer, and let her know in person that her post was one of the main reasons I was present at FinCon19 in Washington DC.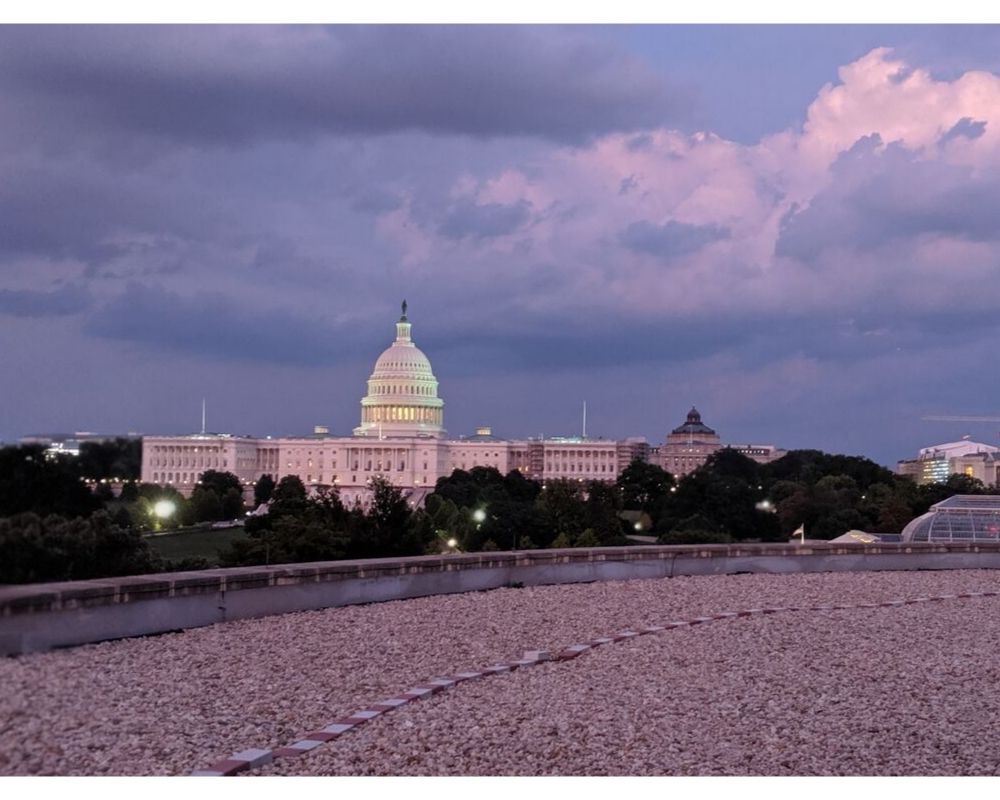 Taking action brings on changes
Little did I know, between that purchase and actually attending the conference a year later, many things would change in my life that would make me feel even more a part of this community before attending.
I started working from home which led me to reach out to A Purple Life with questions on thriving while working from home as I knew, from reading her blog and tweets, that she was teleworking. We became penpals and built a friendship despite living in cities over 4000 km apart, and not long before the conference, ended up planning to room together!
I also made other friends in the community by exchanging mostly gifs and some ideas on Twitter. One exchange with Jessica from The Fioneers who was also attending FinCon, led us to create a virtual book club surrounding the book Designing your Life, meeting once a month with two other bloggers from the blogs: Sense with Cents & Barista FIRE.(though both could unfortunately not attend FinCon this year).
Furthermore, reading Work Optional and following through the exercises along the book, made me reflect and realize that I want this blog to perhaps be a bigger part of my life. This led me to write on a more consistent basis.
I was even invited as a guest on the FIRE Drill Podcast to discuss how I negotiated my position to work from home, which itself was an amazing experience, that then led other people to reach out to me about approaching there own employer to obtain remote working agreements.
Did the decision to attend FinCon play a part in making me want to interact further in this community and write more often? I can't say it was the main motivation but I am certain that having this at the back of my mind did play a big part in opening my eyes up to some opportunities when they showed up.
Pondering back, I'm impressed at how being mindful in my decisions and what I truly want out of life, then taking action even when it scares me, have been huge factors in living a life that brings me more fulfillment and more happiness.
Getting Ready to Attend FinCon
Besides doing a lot of back and forth with friends on the Twitter, I took a few other actions to get ready for FinCon. As the big planner that I am, I established a list of goals, read some posts about FinCon and prepared a color coded schedule thanks to consulting the awesome FinCon App. A final step I took in my preparation was to throw myself out of my comfort zone by attending my first ever in-person meetup as Ms.Mod.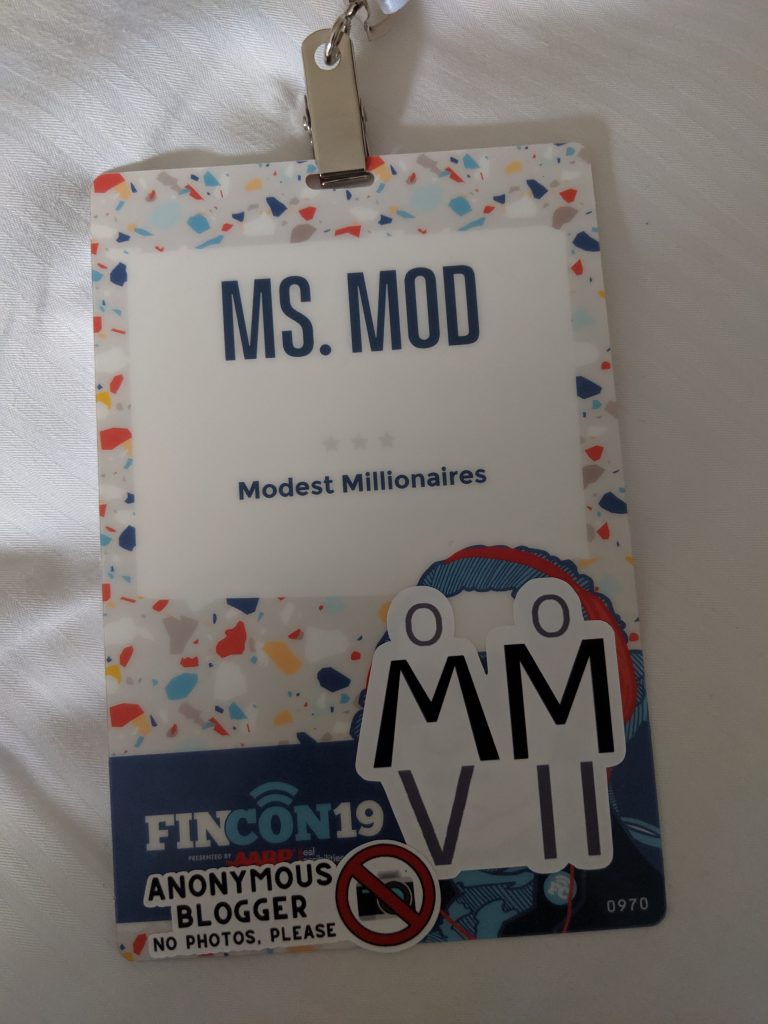 My goals for FinCon were:
Meet the fun people I've been interacting with online & get to know them in real life.
Explore financial coaching by asking experienced coaches some questions, listening to their own experiences & attending sessions on the subject.
See how I can apply some of the lessons from the sessions and from experienced bloggers on my own blog and if I can find new things to explore (including potential affiliate relationship if it fits for my blog and readers).
The posts I've read to prepare were:
Here's what my color coded schedule looked like (luckily for me, Purple took a quick screenshot of my color coded schedule and posted it in her terrific post The Ultimate FinCon Bootcamp: Sleep, Sprint, Yell, Fast! So I'm just stealing the same screenshot):
I loved having my schedule to fall back on whenever I was caught between two enticing conversations and wanted to quickly check which sessions were coming up and might be worth rushing to.
Finally, another thing I did to prepare interacting as my blogger self, was to attend an in-person meetup. Luckily for me, about a month before FinCon, I received an email from Le Jeune Retraité, a francophone FIRE blogger I greatly admire, inviting me to his upcoming meetup. I first hesitated, as that would require me to take-on a longish drive to go meet internet strangers, but with a bit of encouragement from blogger friends, I headed out.
The event did not disappoint, gathering over 50 young retirees or people on the journey to FI or newly discovering the idea. It was amazing and the evening flew by. It really was quite an excellent first experience of interacting as a blogger.
One thing that made an impact on me was how the connection with the other content creators that were present was almost instant, captivating and absolutely a comfortable experience: Les Ingénieux, Le Millionaire Invisible, Retraitecie.blog/, Outil de planification de retraite planifretraite.ca/, etc. This made me feel more at ease about what kind of interactions I could expect once I got to FinCon.
Living it up at FinCon
As you can tell, the flight to FinCon was an emotional one! From when I met up with my roomie in the airport, until the very end of this conference, it was a whirlwind of continuous amazement, fun, captivation, laughter and, of course, emotions.
I can't do justice to all of the great stories I heard while at FinCon and all the amazing people I've met. I've thought of simply doing a short point form of some moments that have stayed with me among a multitude of other amazing moments but even that was too overwhelming of an idea to pick and choose.
I have to be honest that the post-FinCon exhaustion is real and that the reality of returning to my family after this experience of being away for the longest period since they were little was both great and exhausting. So I am keeping this part short and, hopefully, sweet with a quick overview of my main takeaways from attending the conference.
My Main Takeaways of Attending FinCon:
Continuously being surrounded by amazing people that are living a life on their own terms is a really special and unique feeling. These are people that pour their heart and soul into their content, brands that want to work with those people or simply readers of this content who felt inspired enough to join in on the fun.
Surrounding myself with these amazing people was beyond inspiring. It was actually reassuring and helped me gain greater confidence in the trajectory our family has been on for the last few years.
That confidence further spread to knowing that I am capable of finding opportunities and of pursuing exciting ideas and projects. It also greatly changed my mindset in seeing how myself can have an impact on others. I'm now left to reflecting on how I will go about implementing this desire to bring more of this community feeling in my own day to day life.
Did I reach my FinCon Goals?
So let's see… did I reach the goals I had established prior to FinCon?
Meet the fun people I've been interacting with online & get to know them in real life.
Surpassed! It truly felt like I already knew a lot of people there already just from following them or interacting with them online. I've even met new people to interact with online and hopefully meet again in person eventually.
Explore financial coaching.
Met! Thanks to a bit of help from my friend Purple who likes to play the role of #accountabilitybeast, I attended a session on coaching which was greatly instructive. I also had quite a few chats on the subject with people with some sort of experience in this field which led me to reflect on which target audience I might be able to help best.
It continues to be something I am exploring for the future when I have a bit of free time, which it pretty rare, while also bringing on some reflections on my anonymity on this blog and limits that this causes. Fortunately, I now have a list of various resources to consult on the subject.
See how I can apply some of the lessons from the sessions and from experienced bloggers on my own blog.
Surpassed! The list of ideas for my own blog is now even longer than it was. The few sessions I attended were quite motivating and brought on ideas of content on the FI angle, financial literacy for kids, authenticity in my writing, happiness along the journey and so many more fascinating topics.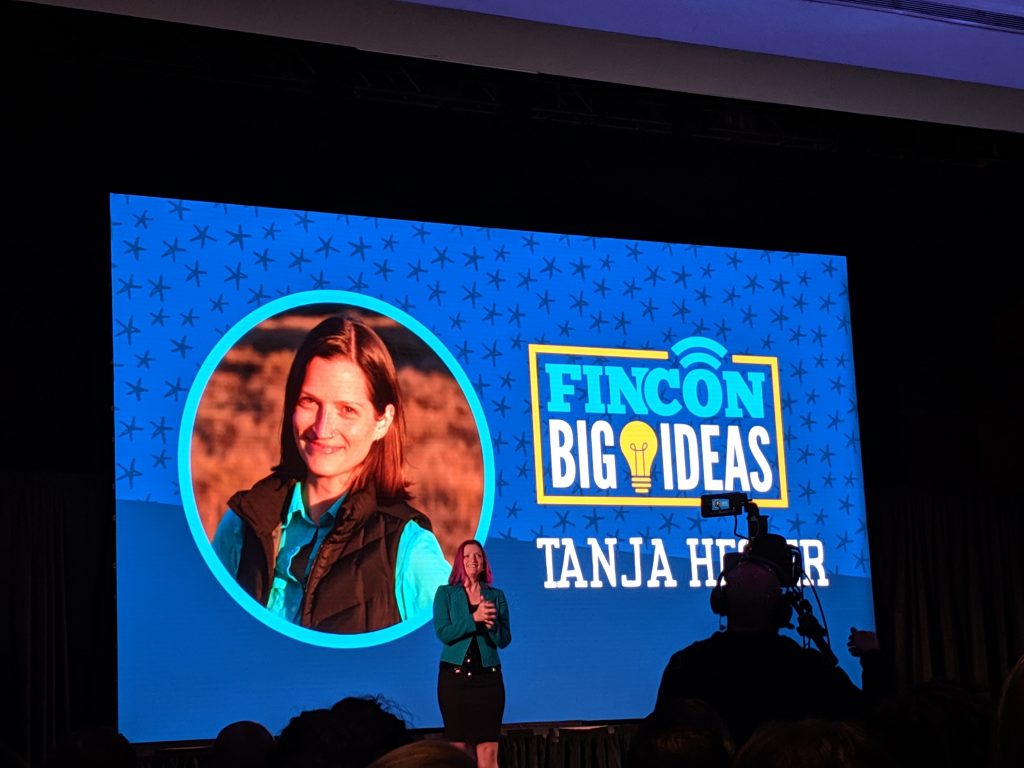 Finally a Huge Thanks to Mr. Mod:
Speaking of surrounding yourself with inspiring people, I couldn't have attended FinCon with such a calm and receptive state of mind without having an amazing partner back home. Once it was determined I was heading to FinCon for sure, Mr. Mod never made me doubt this choice (well except when he asked me what I would do if my roomie to be APurpleLife might be a murderer).
Even back in January, when both kids and ourselves came down with a fantastic synchronized stomach flu, he reassured me after I dramatically claimed it would be nuts to leave him alone with the kids for 5 nights when things like this could happen. He reassured me that in the rare odds this would hit again precisely when I was away, he could manage or call on help from family if he was really in bad shape.
The week before heading out, he scratched off things on my own "to do list" such as "Prepare meal plans for kids & Mr. Mod while I'm away" and said "I got this, you have enough on your plate!".
While I was attending, he never once made me feel that anything going on could not be dealt with without me. My normally anxious mind was 100% focused on fully experiencing FinCon as I knew he had everything under control. So I'm allowing myself to finish this already too long of a post on a cheesy note for him.
We're in no way a perfect couple, having faced some of the challenges with regards to the never ending household and kids related chores as well as the mental load or emotional labor as two working parents, but we are both eager to remain present for each other and give our best at all times.
This allows each person in the relationship to grow, become their best selves and experience this life to the fullest! I consider myself incredibly lucky to have found and chosen him as my life partner!
Wrapping it all up back to FinCon
Now back to a more FinCon focus, that's similar to how I feel the people I've met at FinCon were: they are all eager to bring the best of themselves in that moment and in the content they create. In doing so, they allow others, be it other content creators or their readers, to grow and become their best selves to live their best lives. It honestly brought so much happiness and inspiration in my life that I just can't take all of the emotions!
Have you ever experienced being surrounded by a wonderful community that lifts you up, be it FinCon or in other circumstances?
How do you go about surrounding yourself with inspiring people in your day to day life?