Oftentimes, people skip over a very important step in achieving their goals: that of quantifying your dreams to make them happen. They may start first with the tough work of listing out their vision but stop themselves when it comes to adding the details necessary to clarify it further in a measurable way.
If we want our finances to support the life of our dreams, it's obvious that clarity on our vision for that life is incredibly important. Then it's even more important to make our goals measurable in order to know what we are working towards.
Today, I'd like to dig further into the importance of quantifying your dreams to make them happen and how to do so when approaching your important life objectives.
But first, allow me to share some of my own reflections around making certain travel dreams a reality for our family in 2023. I'll get a bit into where I'm at in my own process around quantifying those objectives in order to find out what is possible for us next year.
By the way, I've started to run some free events to come together to have conversations surrounding better aligning our finances to our ideal life. These are called the Modest Millionaires Lunches and the next one is taking place next Tuesday (November 22 at 12hPM EST). We'll be discussing this exact subject of quantifying your goals! You can learn all about it and RSVP here.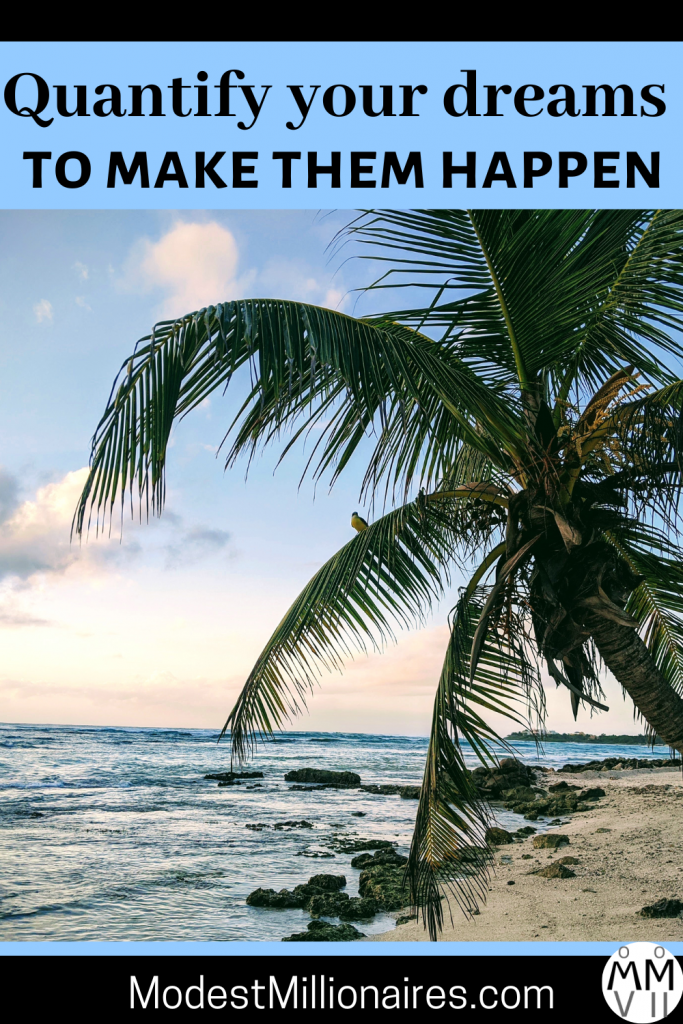 Travel On My Mind
With the first snow upon us here in my area, I've got visions of beaches on my mind!
It's exciting because honestly, with what we've been through since the pandemic started in 2020, my desire to travel was somewhat on pause. This year, I even started to worry that this part of me had been replaced with a fear of uncertainty.
Like many, some of my travel plans ended up being canceled. Beyond that, even once we were finally vaccinated and things started opening up, the pandemic kept on leading us to cancel plans at the last minute repeatedly. I got tired of managing the kids' deceptions and my own.
So as many began traveling again, implementing all the precautions to do so as safely as possible in today's context, I started to worry that my own travel desire didn't seem to come back. But thankfully, with the weather getting cooler, which almost felt sudden with how warm this Fall has been, my great passion for discovering new places and adventures is back in full force!
I suspect that yes, fear must have played a part in not wanting to travel, yet perhaps my diminished need to go somewhere new is the result of a few different things. With my more comfortable schedule since considering myself semi-retired, I get to do a lot more of the things I love. I feel more rested than ever. Maybe this new way of life leads to less desire to escape my current lifestyle.
In the end, it's not a bad thing but I also know that traveling with my kids is something that remains important to me. I've learned so much from past travels and know how these experiences fill me with something unique that brings so much to my life. So now that my desire has returned, it's time to bring that back into focus and make it happen!
So here's where I'm at with my own little process to quantify this goal.
Aiming For Some Clarity : Where To go?
My first step is to start getting some clarity on what type of travel we want to do. I'm juggling various ideas of locations and types of trips I'd love to take my family on. It's a little overwhelming because conflicting desires are competing as to deciding on where and when to go.
Revisiting the beach we were on in Mexico in January 2020 feels lovely, we had made friends there which we would get to see again! Yet I've always wanted to do the whole family Disney World trip with the kids and they are around the perfect ages for that. But what about a brand new area and that sailing trip we've been talking about?
So I've got some ideas about where to go. Quite naturally, this is around the time when my brain begins telling me about all of its objections to some of those plans. One thing is clear though, we don't really want to do all of these trips in just one year.
Taking all of those trips would simply not fit our budget for 2023 with other renovation costs we have planned. Even logistically, it might get tiring at a certain point. Plus, we got a senior dog who likes her routine and who normally stays with extended family members who also want to travel (some possibly alongside us) so that makes things tricky.
What are the Potential Costs?
All of that being said, before I begin saying no to some of these, I know that the very first step is to figure out the potential costs of these travel ideas.
It's time to begin my research to find out some important things like:
What would be the budget for each of those specific trips?
What expenses am I looking at for various lodging/travel options?
Which travel time frame might help lower those costs?
What kind of credit cards might help collect points that could specifically serve to lower those costs?
Clarity around all of this will be so helpful to start figuring out which trip fits what we want for 2023 and when we might pursue those other ideas in the future. It will likely be easier to pick out what feels like more of a priority right now and what strategies can help us optimize potential costs.
Then we can get into the logistical details and figure out our options for things like : who will take care of our pet while we're gone? Do other extended family members want to tag along?
With clarity around when we want to leave, where we want to go and what the potential costs might be, it will likely be much easier to get some answers around those questions. It also becomes much more motivating to start making progress on organizing our cash flow to plan for that spending.
The Power of Quantifying our Goals
Quantifying our goals is a powerful and important step in financially preparing to make those happen. As I mentioned in the beginning of this post, people often stop their planning at the initial step of identifying the higher level of what they want. They often resist adding more details.
Even in my own process above, we can see that the first thing that comes up once I've listed my various travel ideas are some of the reasons why it will be difficult to make these happen. While I still feel like it's true that we can't take all of those trips in 2023, I know it's worth it to quantify all those plans in order to increase the chances of making them a reality some time in the future.
The resistance often shows up when people start telling themselves all the reasons why their dreams are not possible. It's completely normal for those thoughts to pop up at that point. The important thing is to set them aside as you work on adding more details to your vision. If your worries are preventing you from moving on to the step of quantifying your goals, just take a moment to list them down in some document that you can return to later.
I've seen my clients achieve amazing things by simply taking the time to put numbers to their goals before addressing their worries on the feasibility of such things. This powerful process opens up new ideas and options to overcome obstacles. It also allows you to estimate how much progress you are making towards those goals.
Once you have an idea of the potential range of costs for something you desire, spotting a good deal is so much easier. You have data to compare the value you'll get for the price you pay. So decision making is facilitated thanks to the process of quantifying your goals.
How to quantify your goals?
There are many different ways to add details to our dreams to quantify them. The first and most obvious way, which directly relates to my approach with regards to our upcoming travel plans, is to budget out for how much your objectives might cost.
Like I indicated above, at this stage I'm also starting to add strategic thinking around ways that can allow me to lower some of those potential costs. I'm reflecting about travel hacking and identifying less busy travel periods in those areas for lower costs.
Then it might be about adding further details to these in terms of the percentage of the gap between your income and expenses that might need to be allocated to a specific goal vs another.
Some goals might feel harder to quantify but if you get creative, there are many ways to find measurable ways to detail out your objectives. Want to have a less cluttered home? Start tracking how many items you give away and establish goals around that. Want to spend more time with friends? Keep a list of the number of times you are hanging out with them per month and define what would feel like a good number. Want to work less? Aim for a specific number of days off per month.
Conclusion
Quantifying your goals is such a powerful step to make them happen. It's not necessarily a hard step but it can require creativity and lots of research time. Afterall, I've set aside quite a few blocks of time in the upcoming weeks to research all of those travel dreams I'm juggling. Then it'll be important to sit down as a family to select which one we want to work towards making a reality for 2023. I'm very much looking forward to it!
Want to discuss quantifying your goals with an amazing group of FI focused people?
Join the next Modest Millionaires Lunch, free events to come together to have conversations surrounding better aligning our finances to our ideal life, which will focus on this subject. It's taking place next Tuesday (November 22 at 12hPM EST). RSVP here.
How about you? What's your process for quantifying your goals? Are you planning any trips for 2023?