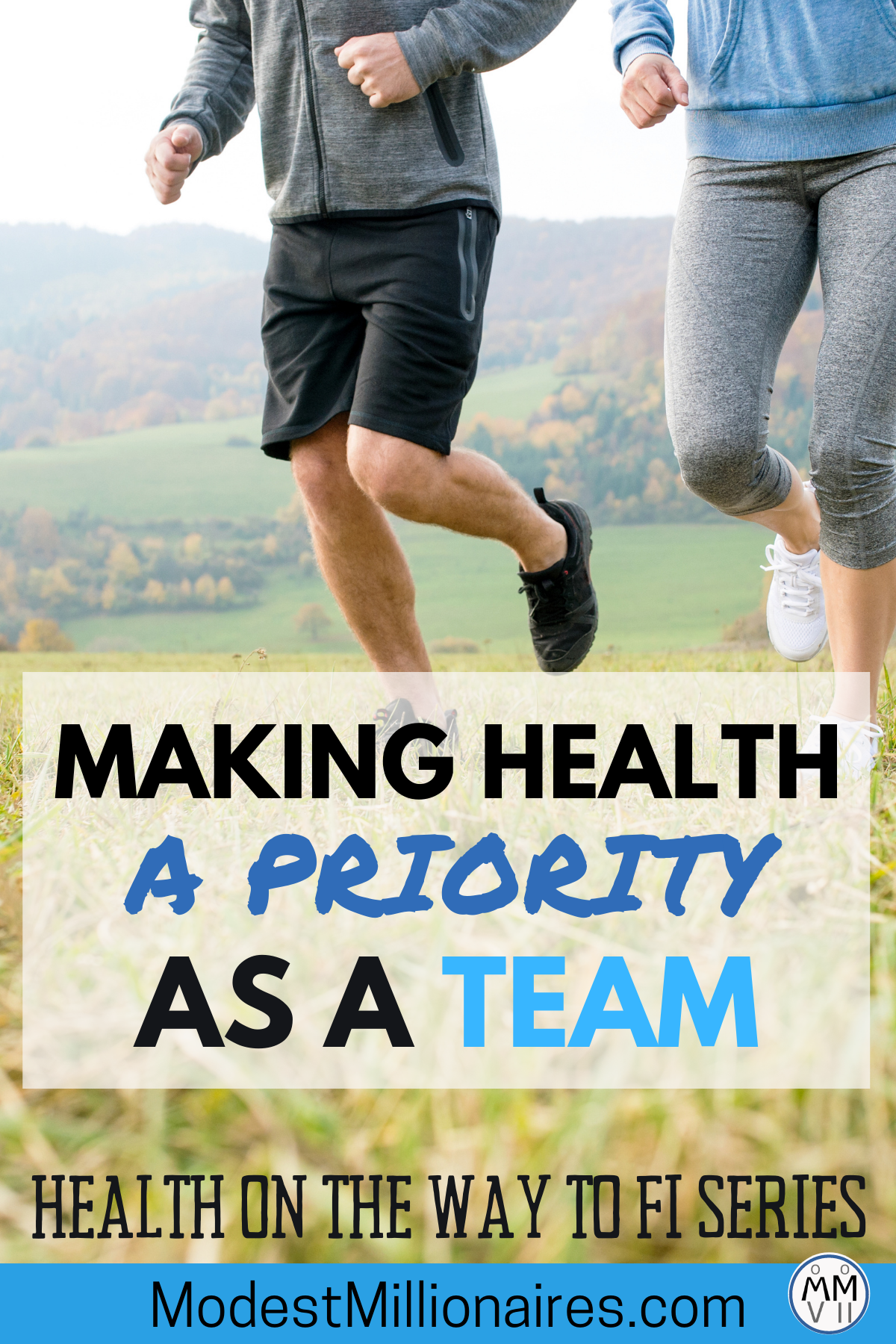 I'm so excited to bring you the very first Health on the Way to FI interview! Today we will learn how my friends Jason & MK Williams approach maintaining healthy habits on their way to FI & beyond.
I'll kick it off by admitting it felt strange to have MK send me this "for my review". The reason being that MK is a published author and self-publishing expert. I'm actually right in the middle of reading her latest book The Alpha Nina and have read all her work of fiction. I'm a huge fan!
I met Jason & MK at FinCon 2019 and instantly felt a connection with them. They've definitely inspired me in how they've utilized their freedom to find work that brings them joy & fulfillment.
While their exact goal post for FI has changed through time, their mindful approach to the journey is admirable and clearly has reaped benefits far beyond their financial life.
I'm honored that they both agreed to share their story of Health on the Way to FI. As you'll see, they've welcomed a baby girl during the first year of the pandemic which clearly has its own set of challenges with taking care of your mental and physical health. In the face of all of these changes, they've found ways to adapt to continue making their health a priority.
Without further ado, let's hear from Jason and MK on how they've approached maintaining their health on the way to FI and how they continue to do so as parents to a 16 month old.
1. Tell me about you and where you currently stand on your trajectory to financial independence.
We are Jason and MK, sometimes known as The Winning Williams. We found FI in 2014 and we felt that we hit FI in 2018 in terms of having 25x our annual expenses at the time. But we didn't have kids and we felt much more secure with the idea of a 3% withdrawal rate instead. Well, flash forward to 2022 and we now have a baby girl who has been suspiciously low-cost up until now (she is 16 months old).
Our expenses have been artificially lower for the past two years since we put one car in storage mode for insurance and both work from home. But things are changing again. So, could we lose both sources of income and not have to work again? Probably. But we both enjoy work for now and will continue to save so we can get to a lower withdrawal rate (and perhaps some luxuries too).
2. What does supporting maintaining good physical & mental health currently entail at this point in your journey? Has this changed through various phases of your journey to FI?
Our health and wellness journey has been a constant evolution. Even before we found FI we were all about saving – so if it was on BOGO that is what we ate that week. But then we discovered Aldi and found we could eat clean, whole foods for less than we were getting for overprocessed BOGO deals.
We started doing P90 (yes, P90 not P90X) workout videos and made a point to work out twice a week. When MK got a new job in 2015 that allowed us to cut commutes times we started to have more time to cook even better meals. Oh and she was "voluntold" to run a half marathon for a team building event. We both found our new hobby – running!
We did several half marathons and a marathon (Jason) in that first year. But running got boring so we added in more weights to mix it up. We were lean and fit and loving the challenge of finding a new workout or researching new recipes to get us to nutrients we needed.
Then we had a baby. And our time to workout was cut drastically. We still prioritize getting a workout in every day, some days it is just free weights at home, some days it is a jog in our neighborhood, some days it is yoga. But we do SOMETHING good for our bodies once a day. We'll get back into race shape one day… maybe.
As for food, MK had to go off of all dairy and soy for 10 months when our newborn had a clear intolerance. It seemed like a HUGE challenge. But it turns out we already had some great skills and habits of eating clean. With the restrictions off and cheese back on the menu we still eat clean and leave some wiggle room for "fun."
Our mental health journey has been the last to develop. We are both so type-a that we just figured we would relax when we had time later. We started meditating and manifesting and focusing, but then with a baby that has been tough. We have been there to support each other and actually talk through our anxieties. We are aiming to add meditation back into our routine soon now that our daughter has a sorta regular sleep schedule.
Jason has been a rock of support as MK has been dealing with postpartum anxiety, mom stress, business owner worries, you name it. MK has been there for her rock too! We are boulders. But we list health as our top priority every day and when either of us has an issue: gut, muscular, or mental, that is the top priority. Giving each other a break, a way to rest, a listening ear, whatever is needed to get back to healthy in that moment.
3. Do you expect your routines around maintaining good physical & mental health to change in the future? How so?
We're certainly hoping for a change up! We think our healthy eating is on par, but we always want to find more and better recipes and learn how to make different cuisines as well.
For our workout routines we will welcome the ability to get back and do a run together (especially as a family once she has the whole walking and balance thing down). We have refocused on yoga, stretching, and mobility because even though we hate to admit it, we're getting older. And we just… get bored! We like to mix up our habits and routines.
Jason is always encouraging MK to lift more weights and not rely on cardio so much. MK reminds Jason that his back injury was triggered by doing too many pushups to make our little girl laugh. Perhaps we'll move on from running completely one day and try surfing or tai chi or acrobatic yoga. We are looking forward to a long life and making good use of our bodies.
4. Do your current health habits impact your quality of life?
Absolutely!! We haven't been sick since COVID started (being hermits has also helped!) We don't have to spend the mental energy to think about this pill or that, this doctor or that. Our bodies work and we are so grateful for that every day.
Our habits are also… probably more extreme than others. We cook every meal at home. We prioritize healthy eating and getting a workout in every day. We're adulting most of the day. Which perhaps means we don't do other "fun" things, but we're enjoying life and eating delicious meals.
5. How does maintaining good health impact your financial goals or timelines and how have you approached planning for health related costs?
We're still battling a raging One More Year Syndrome (Jason) and a deeply held scarcity mindset, we will keep saving for health!! (MK totally enables Jason on this so blame all around.)
All kidding aside, Jason's grandparents lived to be 92 and 99. While MK's family has a shorter history, she has also kicked a lot of bad habits that her family has. We expect to live a long time. That means we'll eventually need bionic knees and medical updates so we can still act like we're a pair of 30 year olds when we're well into our 100s.
6. Which resources have helped you make progress in transforming and/or maintaining good habits around your health?
YouTube! So many amazing FREE workout videos and yoga channels. You can support these creators by purchasing their goods or even just watching the ads on their videos. We've found creators we want to support because they give us so much value. From new workout clothes for MK to a vegan cookbook.
Here are three health-related YouTube channels recommended by MK & Jason:
We also love BudgetBytes for recipes. We got a set of weights to use at home (adjustable weight set and a set of kettlebells) and make use of them daily. The one time "splurge" has been an investment in our health. (NOTE: we did have a gym membership for about 7 months but then they had to close for COVID and MK was super pregnant when they reopened. We'll likely add a gym back into our mix later) 
We also listen to podcasts that talk about health and nutrition. We've heard it so many times that you can't outwork a bad diet, we like learning about new research in nutrition so we can be a bit more educated about what we put into our diets.
Here are three health-related Podcasts recommended by MK & Jason:
7. How did your pursuit of FI help or hinder prioritizing good health along the journey to FI?
At first it was so hard to think of spending MORE money on "healthy" foods. Then we got out of our local supermarket and into ALDI.
We still have sticker shock sometimes when we look at our grocery bill and think "is the grass fed beef really worth it? Do we need brussel sprouts AND asparagus?" The answer to both is yes, but we have to remind ourselves occasionally that a little extra cost now to save health and medical expenses down the line *hopefully* is worth it.
We know we can't diet for never falling off a ladder or getting in a car wreck, but for the things we can prevent we want to do that.
8. What advice do you have for someone struggling to maintain good health on their journey to FI?
Start somewhere. You don't have to go from couch potato to gym stud in one day. Nor should you. Pick one thing to start with, that's how we did it. We added in a 21 minute workout video two times a week. We added fresh broccoli instead of a frozen pack of broccoli with cheese.
Little by little we changed our habits and evolved our diet. It has been sustainable and these incremental changes help us to gauge if something is working or not. We always think of how much we can do with our bodies, how grateful we are that they just work and that keeps us motivated. We're rewarding our bodies for a job well done by giving it what it needs: movement and nutrition!
I'm so appreciative of Jason & MK for sharing their Health on the Way to FI story with us!
One huge take away from this interview is how the strong partnership between these two have helped them focus on their health, no matter where they are at.
From discovering a joint passion for running, to managing prioritizing mental health as new parents, with everything in between including nutrition & food restrictions, it seems that this couple works together to lift each other up and overcome obstacles. No wonder they are occasionally known as The Winning Williams!
They've also been open to adjusting their approach depending on their life situation. With a clear focus on wanting to be healthy, a desire to learn and keep things interesting, they've sought free resources to help them improve their fitness & nutrition. They also don't shy away from spending more money in areas that feel right to them.
They inspire me to ask myself how I can be of help to assist Mr.Mod in reaching his own health related goals and to reflect on what I myself might need and ask in terms of support from him. Approaching health as a team in our partnership can only serve to lead us towards better habits and it will give a great foundation for our kids to put their health first.
Being flexible with our goals and how we achieve them seems to be one of the special qualities that many share in the FI community. MK & Jason's mindful approach to all of this is likely one of the reasons why they've had success in staying accountable with their habits. As they've put it so well, incremental changes, where you test out gradually if something is working or not, has seemed to have been a key to success for them.
If you show up, recognize the long term benefits and take enjoyment in the journey, taking care of your health can transform from feeling like a chore to a pleasurable and sustainable experience. This also goes for taking control of your finances and pursuing FI.
If you'd like to follow Jason & MK's journey, you can find both of them on Twitter:
MK: @1mkwilliams Jason: @JasonEatsBeans