For the first time, I talked openly with close friends about our plans to have the option to retire in our mid-thirties. I did highlight caveats and defined it as the fact that we are saving enough to technically create our own "retirement fund" allowing us to be free to do whatever we want to do. 
I explained that I would love to take on some entrepreneurship endeavors, such as budget coaching by the time I officially leave my job but that essentially, if I did nothing at all, we should still be able to fund our cost of living through our investments. Pursuing various types of side-hustles on that new-found free time would be fun and would add additional financial security of perhaps not depending entirely on our fund once I quit my job.
My friends listened to me attentively as I quickly told them the big lines of our financial independence plan and I honestly didn't know what to expect as a reaction from them.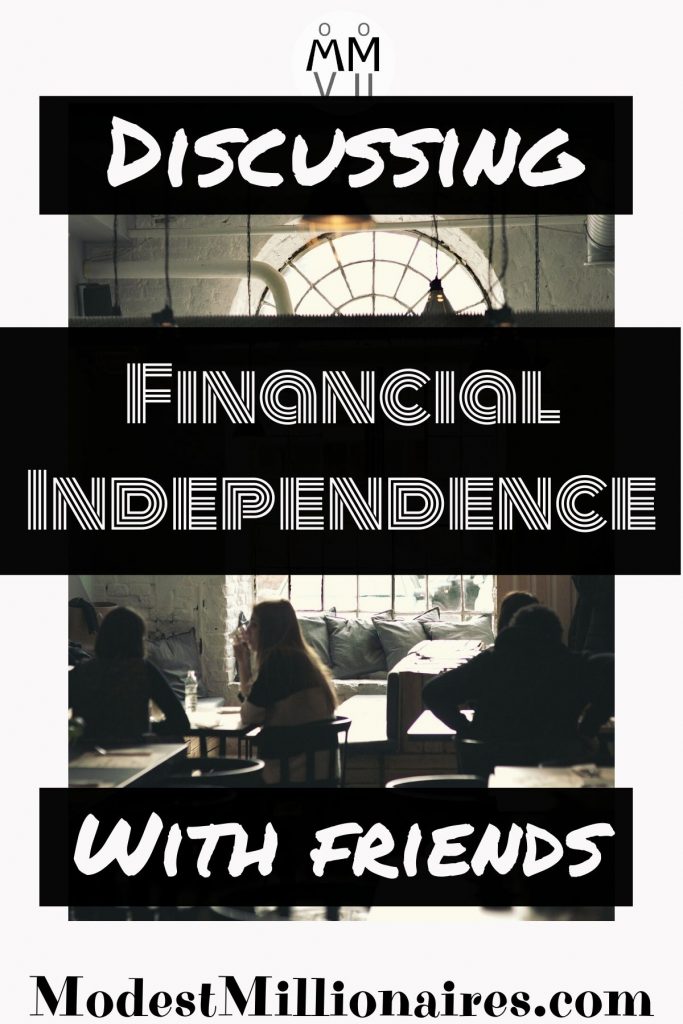 Secret Plans
I'd always been tip-toeing around this subject when talking to friends. You see while my close group of friends has been hanging out since before college (12+ years), money conversations, as with most groups of people, remain somewhat light.
All of us have different ranges of household income and life situations. We've made many different decisions along our lives and all try to be non-judgmental through those decisions to support our friends. Somehow talking about money seems to feel like we are moving away from a non-judgmental and supportive place.
I've realized lately though that avoiding those money conversations does not help make them more comfortable. Furthermore, not sharing my FI plans with my friends also feels like I am not being open with them and somehow keeping an important part of my life secret.
Why does talking about personal finances feel uncomfortable?
Which begs the question of why talking about money feel like heading into a place of judgement. Perhaps this falls into the trap of comparing one completely different personal situation to another. Will I seem like I am boasting? Will I be asked to foot the bill when we go out now? Will I seem like I am judging others struggles at not being able to make ends meet or save more money? Or the other way around, will I seem incompetent? Will my friends identify my choices as mistakes?
Perhaps it falls into the idea that money reveals too much of our lives or is a type of "oversharing". Or is-it that we feel that it is a subject that will turn the conversation to a bit of a gloom and serious non-fun trajectory? Could it be that we feel we have little influence over improving our friends financial lives? Is this simply mimicking the conversations that when we were children we've seen adults have in our lives, where money was perhaps not an open subject of discussion or was a subject of conflict?
I don't particularly have answers about the reasons that money feels so taboo. I've felt some of the feelings above at different times. However, interacting increasingly with the personal finance community made me realize some important things.
I want to:
make money a more common subject in everyday conversations,
be more open about our trajectory,
share the knowledge and ability I have with regards to managing money.
Sharing my plans
To be honest, I wasn't thinking about any of that when I blurted out the fact that my plan was to be free from the need of working at around 36 years of age while hanging out with three of my friends. I just responded honestly when a friend asked "so with this working from home thing, are you ever planning on moving up the ladder at work one day and how will it impact it?".
The first reaction was surprised excitement, quickly followed by : "How? How much are you saving?". I explained that we are saving over 50% of our incomes while adding the caveat that both Mr. Mod and I are close to each making 6 figures.
Thinking about it after the fact, that's an interesting caveat to add since we were saving 50% of our incomes even when our entire household income was under 6 figures. Somehow adding this detail made me feel that perhaps I showed some understanding that our situation may not be replicable in all circumstances.
I don't know if that bit actually helped my friends feel comfortable but the next thing that was said, simultaneously by 2 of those friends was: "I love that and would love to have someone help me with my own budget"!
Allowing others to open up
One of those friends went on to explain that she had been struggling to avoid taking on increasing amount of debt after 2 maternity leaves. During parts of those periods where her maternity leave payments fell at 50% of her salary she had found herself in situations where the only option was to take on credit card debt.
Despite being back at work for a few months now, she's barely managing to pay the interest and is terrified in finding herself in a situation where an appliance would break or an even more expensive emergency, as she has no idea where she would find the money.
Long story short, I'll be meeting with this friend in the next few days to go over her finances and help her establish goals and ways to keep track of her progress. Opening up about my own financial goals, even if very different from my friends, allowed them to open up about their own financial situations.
Outside of our control
In the end, others reaction to what we share greatly falls beyond our control. You can do your best to deliver the information while being considerate to others around you, and sometimes this simply results in a bad reaction. Of course, be open to feedback when discussing finances, basically don't be a judgmental jerk and try to talk about your own situation not as a comparison to others' circumstances.
I do believe though, that what I pictured in my mind as ways that others might react to sharing our financial independence plans, was somewhat exaggerated and tended on negative possible outcomes. Even in the worst of those imagined scenarios, I would still be just fine and nothing catastrophic would occur after a bad reaction from someone in my life.
Conclusion
While I'm not exactly ready to share openly all details of my finances, or even that I've been writing this blog all about this for the last 2.5 years, I do increasingly want to talk about our financial independence plan with the people in my life.
Sharing my experience can allow others to learn about this whole idea of financial freedom. Even if they have no interest in following that same path, it can allow them to open up about their own goals, struggles and experiences with their own finances which are a huge part of their lives.
Somehow, I can only hope that talking more openly about all this helps break the taboo that revolves around the subject of money and make those conversations more comfortable.
How do you approach the subject of personal finance in your everyday life? Do your financial independence plans come up in conversations with your friends?